Philips Respironics Recall
June 22, 2021
To: Patients of Sleep Health Clinic of The Woodlands, P.A.
Re: PHILIPS RESPIRONICS RECALL OF CONTINUOUSLY POSITIVE AIRWAY PRESSURE (CPAP), BiLEVEL POSITIVE AIRWAY PRESSURE (BiLEVEL PAP) DEVICES, AND MECHANICAL VENTILATORS.
Dear valued patient:
As you may have already learned, on June 14, 2021, Philips Respironics ("Respironics") issued a recall announcement for a variety of medical devices including CPAP and BiLevel PAP machines, including Dreamstation, Dreamstation GO, System One, and REMstar devices. (Note: This recall does not apply to Dreamstation 2 devices.) We have been assured by Phillips that they will provide "robust and comprehensive repair and replacement program, to correct this issue as efficiently and thoroughly as possible." We anticipate all affected devices will be repaired or replaced by Phillips to address this issue.
The recall is to address potential health risks related to the polyester-based polyurethane sound abatement foam used in certain devices. Philips reports that the foam-related complaint rate in 2020 was low (0.03%). However, this risk may be increased with the use of ozone-based cleaners and/or addition of heat and humidity.
Philips has identified the following to be among the potential health issues of using a recalled device: airway inflammation; skin, eye, and respiratory tract irritation (including upper airway irritation); headache; asthma; toxic carcinogenic effects; cough; chest pressure; or sinus infection, and has recommended for users of their recalled BPAP and CPAP machines to discontinue treatment. Please discontinue use of PAP therapy if you experience any of the above symptoms in association with any visible debris in your PAP system and contact our office immediately.
Respironics will directly replace the unit through the defined process. We urge all patients with any of the above devices to register your device as soon as possible directly with Philips Respironics at https://www.philipssrcupdate.expertinquiry.com/.
If you do receive a new machine, please contact us so we can update your patient record and coordinate your care. Philips also has provided a toll-free phone number, 877-907-7508, with a Spanish-language option available.
Please do NOT discontinue use of PAP therapy if any of the following applies to you:
I do not use a Phillips Respironics device listed above.
I use an ASV, BIPAP-ST, or AVAPS device.
I use supplemental oxygen with my PAP device.
I have COPD (Chronic Obstructive Pulmonary Disease) or Hypoventilation.
I have neuromuscular disease associated with breathing problems.
I have atrial fibrillation that is now in sinus rhythm.
I have a history of cardiac arrest.
I have a history of stroke.
I have a history of congestive heart failure.
My DOT license requires treatment of Sleep Apnea.
My pilot license requires treatment of Sleep Apnea.
My occupation requires operation of hazardous equipment.
I experienced extreme sleepiness or drowsy driving prior to using CPAP or BIPAP.
If you choose to continue using PAP therapy with a recalled device until the issue can be addressed, we recommend the following measures:
If you have access to another PAP device that is not affected by this recall, consider utilizing it temporarily.
Avoid any use of ozone cleaners. Please follow manufacturer's guidelines on maintaining your CPAP device.
Turn off or reduce use of heated humidifier settings to lowest settings tolerable.
Check your device (including tubing, mask, and humidifier chamber) for debris daily, and discontinue use and notify our office immediately if this occurs.
Consider adding an in-line filter to your PAP system. These are inexpensive and available for purchase without a prescription. (We have a limited number available for purchase for $5. Email tracy@sleephealthwoodlands.com if you would like to purchase.)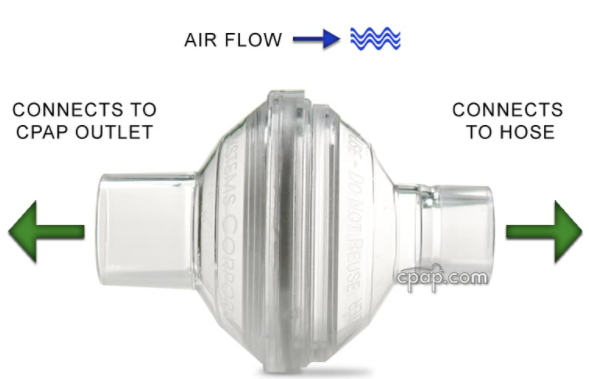 Figure 1: in-line filter for CPAP
Although this situation is out of our control and is equally as disruptive for us as it is for you, we are here to assist you through the process in order to continue to help you achieve your best health outcome. We understand that you may have additional questions, and ask for your patience as we try to respond to each individual a quickly as possible.
Sincerely,
Jennifer Chen Hopkins, M.D.
Diplomate of ABIM-Sleep Medicine
Letter to patients from Phillips Respironics: Philips Respironics recall
For updates on the recall
To register your recalled Phillips Respironics device